Marketing Materials - Make this a Top Priority!
It's essential that any company seeking success, starts by branding their business, in order to be more recognizable and marketable! You want customers to buy what you are offering and display a professional image that reassures customers that they have found the right vendor.
By building a brand for your business you'll start to grow your company, no matter how large the business is.  Visibility, consistency, and repetition are the most important ways to achieve brand success.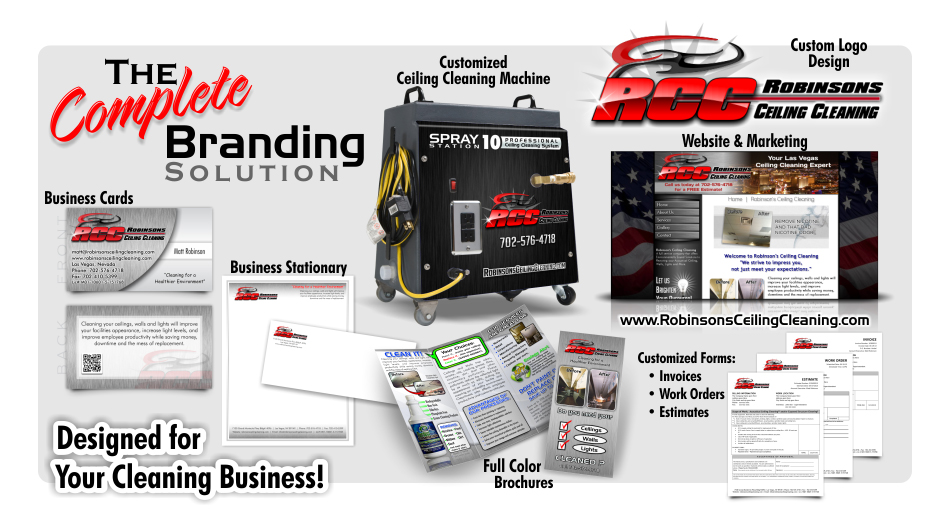 Specialty Cleaning Systems' has the right spraying equipment and products for you and your company but, it doesn't stop there! We can provide you with turn-key solutions utilizing our own multimedia company http://crossmediapros.com to help your company business identity and image.  We offer custom designed work for logo designs, website designs and other media that allows you to improve your business appearance and generator more sales. 
Check out our web design for Robinson's Ceiling Cleaning WEBSITE.

Check out the 5 steps to get you
started with your business identity.


Step 1 - Branding For Your
Ceiling Cleaning or Specialty Cleaning Business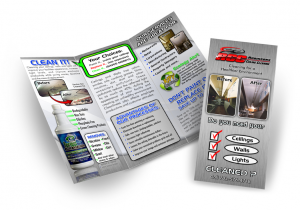 In advertising circles to brand your company name is to identify the logo, slogan and/or design scheme that the public identifies with your products and services. 
Your logo, website, business cards, letterhead, print ads, and signage are crucial in today's business world of smart phones, I pads, computers and the internet, where most of us now visit to find a professional business or to find information. 
The day of carrying around reams of paper to display your company image and presents are over and it's time to move into the next generation of the design, branding and web today. 
If you need a attractive looking banner call us today and let us help you!
Step 2 - Logo Design For Your
Ceiling Cleaning or Specialty Cleaning Business


There may not be anything more critical to your business than the logo you select!
Almost all successful companies that jumped out-of-the box and achieved instant success, did so, by having a logo that was deemed simple yet effective.  Flexibility in your logo design will ensure that it can be used in multiple forms of advertising, from website design, letterhead, business cards, print ads, television ads and more. 
Step 3 - Business Cards For Your
Ceiling Cleaning or Specialty Cleaning Business

The most common form of advertising is the company business card.  They come in all sizes, shapes, colors, textures, etc.  However, it's crucial that business cards have a clean, uncluttered design.  So many business cards fail to be effective because they have too little or too much information. 
Business cards should most importantly display your logo and present a professional image of your company.  Contact information needs to be prominently displayed with your name, telephone number, and email address, and don't forget your web address!
Some Customers choose to purchase double-sided business cards, and print just their web address on the back, so it stands out. Because business cards are often the first impression that a business makes with their potential clients, it's something that needs to be seriously taken.
Step 4 - Letterhead Designs and Forms For Your
Ceiling Cleaning or Specialty Cleaning Business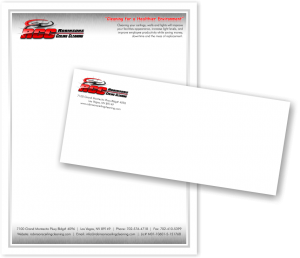 Letterhead correspondence paper should also include your logo and your contact information.  It should always be used when corresponding with your current customers and potential clients.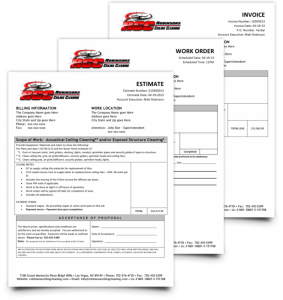 All the branding elements should coincide with each other, and present a clear and concise presentation of your business.  Each branding component is as important as the next, and will help establish your company's professional image.
Business forms from estimates, work orders and invoices to help brand your image to make it a clean transition throughout your business.
Step 5 - Websites For Your
Ceiling Cleaning or Specialty Cleaning Business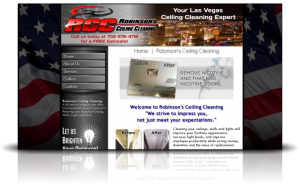 Today, it's imperative that your company website be absolutely effective. Your logo should be presented on each of your website pages. Each page of your website should have dynamic content and be easily navigational, while making sure your contact information is displayed on each page.  Check out Robinsons Ceiling Cleaning Website.
Once activated, your website needs to be promoted, from print to web you need to get the word out that you are online, which can be accomplished in a variety of ways to include, direct email,  press release and business networking sites. 
You may want to contact your SEO web professional to make determinations as to how he might best help you obtain better rankings on the search engines.  SEO, (Search Engine Optimization) is critical in allowing the search engines to find you, especially when your need to be on the first page of search otherwise those customers can't find you because you're website is so far down on the search engine and rankings.
Call us today for more information about marketing, branding, designing and projecting your company's business and image through effective marketing materials and website designs.


In an economy where every dollar is important you can expect our marketing and sales to be more effective and efficient…no matter how difficult the design or project.


Who can benefit most from our Design and Marketing Services?

YOU CAN!
| | | | | | | | | | | | | |
| --- | --- | --- | --- | --- | --- | --- | --- | --- | --- | --- | --- | --- |
| | | | | | | | | | | | | |
| | |
| --- | --- |
| If you're looking for the best cleaning solutions and cleaning equipment available today, Contact Specialty Cleaning Systems!  | |