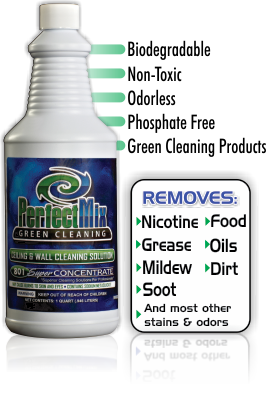 PERFECT MIX™ GREEN CLEANING
Made especially for the cleaning and restoration of all types of acoustical ceilings (porous and non-porous), walls, exposed structures and ma
ny other surfaces removing soils such as mold, mildew, food and body oils, nicotine and other stains and odors.

Perfect Mix #801
Ceiling & Wall Cleaning Solution

PRODUCT NAME: 
PERFECT MIX™ CEILING & WALL CLEANING SOLUTION
PRODUCT NUMBER: 801 -
PERFECT MIX™ CEILING & WALL CLEANING SOLUTION
Acoustical Ceiling Cleaning and Restoration Products for cleaning and restoring all types of porous and non-porous acoustical ceilings, from hard to clean Glacier tile and fiberglass backed vinyl face tile like Shasta & Kapok to Fissured, Cortega and Omni tiles in Offices, Restaurants, Corporate Facilities, Manufacturing Facilities, Health Care and Hospital and just about any work area that contains acoustical ceilings.

We provide our customers HEAVY-DUTY OXYGEN ENHANCED, NON-TOXIC, BIODEGRADABLE, ODORLESS and PHOSPHATE-FREE products and solutions.
BENEFITS:
Our Perfect Mix ™ Environmentally Green Cleaning Products and Systems are used by
Network Professionals and Designed by Cleaning Experts.  Our products and services deliver better cleaning while being environmentally sound.