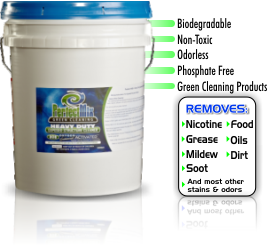 PERFECT MIX™ GREEN CLEANING
Made especially for the cleaning and restoration of all types of non-porous, ceilings, walls, exposed structures and many other surfaces removing soils such as mold, mildew, food and body oils, nicotine and other stains and odors.




Perfect Mix #808
Exposed Structure Cleaner



PRODUCT NAME: PERFECT MIX™ EXPOSED STRUCTURE CLEANER 
PRODUCT NUMBER: 808 - PERFECT MIX™ EXPOSED STRUCTURE CLEANER

Our Exclusive HEAVY DUTY - OXGYEN ENHANCED Exposed Structure  Cleaner is a NON-TOXIC, BIODEGRADABLE, ODORLESS AND PHOSPHATE-FREE, Green Cleaning product that releases Oxygen bubbles that devours organic stains and odors imbedded in all water safe surfaces.  This Solution has been used in the cleaning of Overhead Exposed Structure for such large customers as Walmart with a goal of cleaning beams, roof decking, trusses, duct work, diffusers and just about everything on the ceiling to brighten and restored the structure to its original condition.    


BENEFITS:
Meets or Exceeds GS-37 Standard for
Industrial and Institutional Cleaner